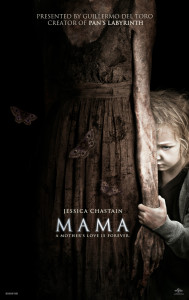 Mama (2013)
Rated PG-13 (for violence and terror, some disturbing images and thematic elements)
Directed by Andrés Muschetti
Starring:
Jessica Chastain
Nikolaj Coster-Waldau
Megan Charpentier
Isabelle Nélisse
After his brother kills several people and flees with his two young daughters, Lucas (Coster-Waldau) spends most of his time and all of his money searching for his missing nieces.  They are discovered, by chance, in an abandoned cabin five years after they went missing. Along with his rocker girlfriend Annabel (Chastain), Lucas agrees to live with the girls in a rural home to allow their psychiatrist to continue monitoring them while still giving them a normal life.  The girls are nearly feral; Victoria (Charpentier) is older and better able to adjust to regular life, but Lily (Nelisse) has only known life at the cabin and clings to the seemingly imaginary mother figure the girls have created – Mama.  When strange noises and shadows arise, the adults carrying for Annabel and Lily begin to discover that Mama may not be so imaginary after all.
Mama displays the best and worst of supernatural horror.  The plot is predictable (up until the weird ending, that is) and many of the plot points are contrived and patently unbelievable.  The film seems to borrow from every other previous flick in the genre – The Ring, The Blair Witch Project, The Grudge, just to name a few – but, there are genuine scares.  Based on the director's Spanish-language short of the same name, "Mamá" was produced by Guillermo del Toro and shares many common themes with del Toro's films, especially his most recent film, Don't Be Afraid of the Dark.  In both films, emotionally disturbed children are uprooted and find solace in supernatural figures that seem benevolent, but are actually menacing.  There is an unprepared mother figure that the children don't trust initially, but who seeks to protect them from the monsters.  Mama is a far more effective film, however, because the monster is truly terrifying.  We see Mama almost right away, but Muschetti builds the terror by making her more and more grotesque each time she appears on screen.
The adult actors are fairly lackluster.  Coster-Waldau's character is almost completely unnecessary and the best part about Chastain's performance is her punky rocker look (drastically different from all of her other roles).  We do see glimmers of her acting ability when she begins to connect with the girls, but she's clearly outshone by her younger costars.  Charpentier is solid and very empathetic, but Nélisse is amazing.  She's more creepy than cute (she was almost as scary as Mama!) and her physicality was pretty mind blowing.
Muschetti clearly has talent and as a first film Mama is a good effort, but with so many great movies out right now, I would recommend waiting to see this one on Netflix or OnDemand.  It's definitely worth a watch, particularly if you're a horror fan, but not inventive or interesting enough to pay theater prices.  The plot is pretty weak, but if you're there for the scares, it won't matter much.